Digamma Function Calculator
The digamma function, denoted by ψ, is the logarithmic derivative of the Gamma Function. That is,

ψ(z) = [Ln(Γ(z))]' = Γ'(z)/Γ(z).

Like the gamma function, the digamma function has its own interesting representations in terms of integrals and infinite sums. The simplest form of the digamma function is

ψ(z) = -(γ + 1/z) + Σ∞n=1 z/(n² + nz),

where γ is the Euler-Mascheroni constant 0.57721566490153286060651209... When z is a positive integer, you can evaluate ψ(z) directly with the formula

ψ(z) = -γ + Σ z-1n=1 1/n.

When z is a half-integer, you can compute the digamma function with the formula
ψ(z + 1/2) = -γ -2Ln(2) + 2
Σ
z
n=1
1/(2n-1).
To find the value at negative half-integers, you can use these functional relations that hold for all values of z:
ψ(z + 1) = 1/z + ψ(z)
ψ(1-z) - ψ(z) =
π
cot(
π
z)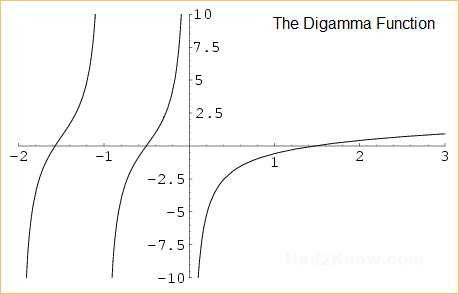 Special values of the Digamma Function
For some values of z, ψ(z) can be written in terms of γ,
π
, and natural logarithms. Some special values of the digamma function are

More Representations of the Digamma Function
Here are several other expressions involving the digamma function: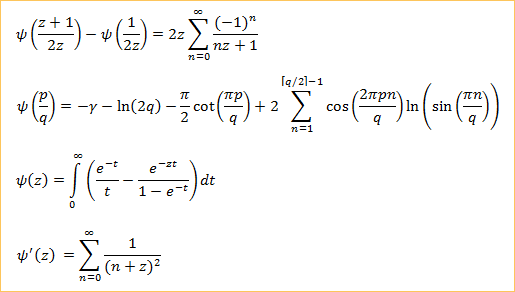 © Had2Know 2010