Floral Tile Patterns and Designs
Designing ceramic tile patterns is an easy way add color and style to your floors and walls, without exceeding your home remodeling budget. Pre-patterned tiles are expensive, but you can create a unique look in your bathroom by arranging plain tiles into interesting geometric patterns. Floral tile patterns create a soothing and welcoming environment in your home. If you are remodeling a bathroom or a kitchen floor, a floral tile pattern is timeless and easy to lay.
Use graph paper and markers to sketch designs for tile patterns. Depending on the size of the walls and floor in your bathroom, you can make large or small blossoms, or lay tiles to create a combination of different flower shapes and sizes. Keep in mind even patterns vs. odd patterns. Even floral tile patterns have a 2 by 2 square in the center, while odd patterns have a single tile in the center.
Laying several straight rows of flowers looks great on bathroom walls and tub surrounds. Space the tiles evenly using colors that complement each other. Three-color and four-color patterns are easy on the eyes. You can align the rows straight or off-center. The smaller the tiles you use, the more detailed pattern you can create.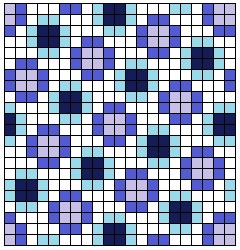 For tile floors in bathrooms and kitchens, you can lay the tiles in a skew-square pattern to create an interesting tile design. Plan the arrangement carefully on graph paper before you attempt to lay the tiles, as it is easy to make mistakes when laying tiles in complex patterns.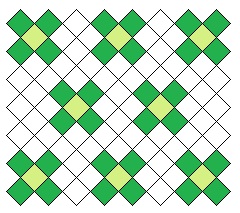 You can also mount the bathroom wall tiles diagonally. The only drawback of this method is that you will have to cut the border tiles in half diagonally to fill in the zig-zag edges. Laying tiles diagonally is a simple way to add interest to a very plain-looking space when you are remodeling.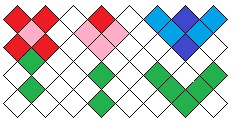 If you don't have very much wall or floor space to work with, but you want to decorate with ceramic fixtures, consider making a border pattern of flowers. You can arrange a row of blossoms, or design flowers with stems. Floral tile patterns lend themselves to border designs.
© Had2Know 2010